South of Da Nang, RVN, OCT-NOV 1969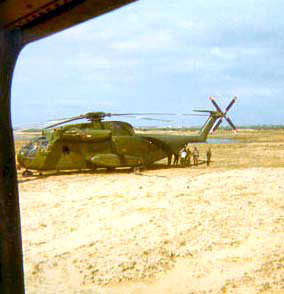 An HMH-463 Sea Stallion is down in the boonies south of Da Nang. The mission was in support of ROK Marines prior to the aircraft's emergency landing. The Republic of Korea Marines quickly formed a hasty defense until the CH-53 was repaired and departed.
Update by Ray Alvarez: In the photo index of 1969 there is the last photo of a 53 that went down south of Da Nang the 53 was piloted by Capt. Crighton and the Co-pilot was Capt. Jones P.A. The crew chief is Cpl. Olsen 1st mech was LCpl. Ray Alvarez and gunner was LCpl Stewart R. E. This happend at the ROK LZ 211 and we received small arms fire as we lifted out of the LZ that hit the transmission leaving a gaping hole in the bottom of the trans pouring transmission oil out. Olsen and myself managed to plug the hole with the handle of a hammer and some rags. Capt. Crighton set the plane down as soon as we were out of the area and had 463 send out some oil for the trans. Cpl. Hicks was the crew chief that flew out to help us. The ROK's got to us first and set up a perimeter around us.
- photo courtesy of Gary Zimmermann
[Back to 1969 Photo page 1][Home]