Stratford, Connecticut, 1966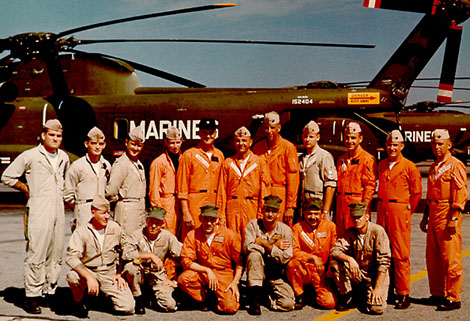 Standing in the top row (left to right): Dennis Churchin, Larry Reed, Rae Scott, Don Ferris, Jim Shelton, Bill Beeler (CO), Bill Walker (KIA: 20 APR 1968), Dave Cox, Mike Wasco, Tom "Golds" (Goldsborough) Faries, and Norb Chelewski. Kneeling (left to right): Joel Helm, Rocky Garner, Bob Henry, Whaker Dilly, Chico Sauceda, and R. D. Reynolds.
The pilots and crew/chiefs who flew the CH-53 Sea Stallion helicopters in the background from Sikorsky's Stratford, CT, plant to MCAF Santa Ana California.
- photo courtesy of Ronald D. Reynolds
[Back to 1966 Photo page 1][Home]